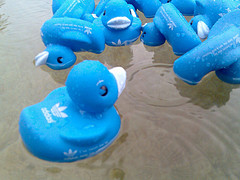 We get it – you can measure digital so much better than offline advertising, therefore most offline marketing doesn't work if it can't be tracked, right? Wrong. Offline marketing has been working for decades; it just doesn't get the media coverage that new sexy apps and social media websites do. Which is ok, because while some people are spending all of their time messing with new unproven technology, smart marketers like you and I are picking what works from online and offline marketing playbooks and using what works best.
Offline, or traditional, marketing techniques vary from putting up your business card on a community notice board at the coffee shop to hiring an airplane to fly your banner above the beach in mid-summer. Today we'll look at 5 proven offline marketing techniques that work.
1. Sponsor Local Events
For branding and special recognition, consider hosting local events or Meetup groups. If you sponsor or even host your local industry Meetup group, your business will be seen as the authority and as a resource. Other business owners will come to you for questions and may send business your way. Anyone can start a brand new Meetup group, but if you're starting out with no connections it might be a better route to sponsor and existing group. You can donate money for sponsorship placement, or just give away your products or services to group members and earn some branding goodwill.
Local event options are endless, everything from local industry trade shows to community events are fair game. Get creative with your banner and sign displays, engage with real potential customers, and make that human connection.
2. Market at Trade Shows
At tradeshow events you have the unique opportunity of talking to customers that have singled themselves out as potential customers willing to talk to you. They have likely paid good money to be at the industry tradeshow, so they want to squeeze out every last ounce of value they can from the show.
Before you can charm customers with your wise words and industry knowledge, you have to get their attention. Invest in strong visuals in your trade show display to entice customers to come visit, and offer unique promotional items to get them to stay. Eschew the boring t-shirts and pens and give away something unique and lasting.
3. Innovate with Vehicle Wraps
Vehicle wrapping is a vastly underutilized source of marketing that many business owners never even think of. Your car is a blank canvas that can by seen by thousands of people a day or more in urban centers, and a great marketing opportunity. Vehicle wrap advertising can range from a full wrap of your vehicle to partial wrapping and smaller decals.
This is a great source of offline advertising because you pay for the cost up front and the value lasts for years. Instead of paying for each eyeball as you would for other forms of paid advertising, the initial investment is up front but pays for itself with potential new business coming your way.
4. Drop Some Drop Cards
Drop cards are pretty out there, but we're getting creative so they're worth a try. In their most popular form, you'll create a business card that looks like folded up money. Curious pedestrians will pick up the "money" and look at the business card and see your business. The idea here is not to litter and scatter them around the streets, since that would be illegal and not very targeted marketing. Instead, try to leave behind one or two in public places that your audience might hang out, such as coffee shops, public libraries, or the mall.
They don't always have to be printed to look like money; they can look like anything eye catching that will grab people's attention without dashing their hopes. Get creative, and buy a hundred of them for a few bucks and just test them out.
5. Orchestrate Guerilla Marketing
If you're feeling brave and a little bit creative, when done right guerilla marketing can do wonders for your brand. As the original "viral marketing" it can be hit or miss just like its online version. Guerilla marketing consists of creatively placing ads around urban centers that break traditional standards. Before you go spray painting your logo under freeway overpasses, we recommend legal outlets only. Think of an ad placed in the crosswalk instead of on a bus stop, or a public sculpture that discretely mentions your brand.
What's even better is that guerilla marketing has exploded in value with the rise of the Internet as the best offline guerilla marketing pieces get photographed and shared with millions online. Heineken is one of the best guerilla marketers out there, so do a search on YouTube for some creative inspiration.
When it comes to marketing, you must consider all mediums and choose the best for your business in your industry. A healthy blend of online and offline marketing is important, but what works for some businesses might not work for yours. Test out different methods, listen to customers, and get creative.
Mark Krenn is the founder of San Diego based printing company Coastal Creative Reprographics. Founded in 2012, Coastal Creative Reprographics specializes in wide format printing including signs, tradeshow displays, banners, and vehicle graphics. Mark enjoys keeping active outdoors, and traveling in his free time. You're invited to connect with him on Twitter. Image courtesy Thomas Høyrup Christensen