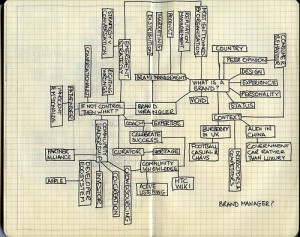 You know you've got to do it. But with all the other things demanding your attention in your small business, when do you find time for branding? Branding should be an essential element to your business plan. Without it, your company can lack a voice, direction and won't be able to build a rapport or trust with the marketplace. Try to think about your company as a person: if your logo is your company's face, then your brand is what it says and thinks.
Getting Started: 4 Questions To Ask Yourself
The process of building a brand can seem daunting to the first time small business owner. Essentially, your brand should convey to an audience what you're all about and who you are as a company. Creating a brand this way can help you start thinking about who your target markets are and how you want to reach out to them. According to Entrepreneur, every business in the process of building a brand should ask themselves four simple questions.
1) What does your business have to offer?
Think about the product or service you're offering. What's so special about it? Why would people need it? It's also a good idea to ask yourself how it fits into your particular industry. Think about what kind of expertise you're bringing to that particular industry, and ways you could use your product or service to bring change to an existing problem, or how you could establish yourself as a sector expert.
2) What does your company stand for?
People usually don't just start businesses to make money. Many times, there is an underlying passion that drives people to go the way of the entrepreneur. For example, your products may use recycled plastics, have green packaging or feature locally grown produce. Focus on these passions as unique selling points to your business. They can also make great reference points for any social media or blogging plans you are making.
3) What makes you different to the competition?
Pointing out the differences between you and the competition comes down to good old fashioned salesmanship. What about your business sets you apart from the other guy? Make a list of what your products or services does better, including price points, materials and even expertise. It might even be helpful to develop a spreadsheet of important factors in your market and how you compare to any of your competitors.
4) What's the story?
Revealing why you started your business in the first place can say a lot about your company and you as an entrepreneur. After all, if the only reason people started their own businesses was solely to make money, then entrepreneurs would only launch businesses in proven profit sectors, rather than creative industries or even restaurants. What drove you to get started? Perhaps it was a passion for what you do, or you saw a problem that you knew you would be able to solve with a business. Customers and an audience love a story, and it helps them connect with your brand on an emotional level.
What About The Professionals?
Bringing in a branding company can ensure that you get the best out of setting up your brand. Many times a brand manager can develop an entire plan for your company that also focuses on social media, maximizing return on your website and how to reel in your target market locally. Branding companies are on the cutting edge of what works and what doesn't, giving you the opportunity to really see a benefit to your bottom line by getting your brand launched and off the ground.
Though you may be busy as a small business owner, branding can have a huge impact on how your customers and market see your business. Given that, focusing some of your time and budget to branding activities is a smart investment. Ask yourself the four questions to get yourself started, and you'll soon be engaging your audience with your message.
Having written online content for a variety of companies, writer Melanie Fleury has seen the difference that a well thought out brand can make. Having a brand manager or company, like Brand Fever Inc., who knows your company and knows what you are trying to convey is a priceless asset to any company.  Image courtesy Flickr