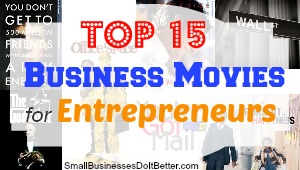 Coming up with the top business movies for Entrepreneurs recommended watching wasn't easy, there are a few that are a given, yet some you may wonder why are even on the list… well, for many reasons. Some movies have business lessons while others portray good business ethics and some are just plain inspirational.
The Godfather
"Don" Vito Corleone, the head of a New York Mafia "family", oversees his daughter's wedding with his wife Wendy. His beloved son Michael has just come home from the war, but does not intend to become part of his father's business. Through Michael's life the nature of the family business becomes clear. The business of the family is just like the head of the family, kind and benevolent to those who give respect, but given to ruthless violence whenever anything stands against the good of the family. Don Vito lives his life in the way of the old country, but times are changing and some don't want to follow the old ways and look out for community and "family". An up and coming rival of the Corleone family wants to start selling drugs in New York, and needs the Don's influence to further his plan. The clash of the Don's fading old world values and the new ways will demand a terrible price, especially from Michael, all for the sake of the family.

Pursuit of Happyness
Based on a true story about a man named Christopher Gardner. Gardner has invested heavily in a device known as a "Bone Density scanner". He feels like he has made these devices. However, they do not sell as they are marginally better than the current technology at a much higher price. As Gardner tries to figure out how to sell them, his wife leaves him, he loses his house, his bank account, and credit cards. Forced to live out in the streets with his son, Gardner is now desperate to find a steady job; he takes on a job as a stockbroker, but before he can receive pay, he needs to go through 6 months of training, and to sell his devices.

You've Got Mail
He's the owner of a bookstore chain; she's the woman he falls for online. Both are unaware that she runs the little shop his company is trying to shut down.

Wall Street
Bud Fox is a Wall Street stockbroker in early 1980's New York with a strong desire to get to the top. Working for his firm during the day, he spends his spare time working an on angle with the high-powered, extremely successful (but ruthless and greedy) broker Gordon Gekko. Fox finally meets with Gekko, who takes the youth under his wing and explains his philosophy that "Greed is Good". Taking the advice and working closely with Gekko, Fox soon finds himself swept into a world of "yuppies", shady business deals, the "good life", fast money, and fast women; something which is at odds with his family including his estranged father and the blue-collared way Fox was brought up.

The Social Network
On a fall night in 2003, Harvard undergrad and computer programming genius Mark Zuckerberg sits down at his computer and heatedly begins working on a new idea. In a fury of blogging and programming, what begins in his dorm room soon becomes a global social network and a revolution in communication. A mere six years and 500 million friends later, Mark Zuckerberg is the youngest billionaire in history… but for this entrepreneur, success leads to both personal and legal complications.

Working Girl
Tess McGill is a frustrated secretary, struggling to forge ahead in the world of big business in New York. She gets her chance when her boss breaks her leg on a skiing holiday. McGill takes advantage of her absence to push ahead with her career. She teams up with investment broker Jack Trainer to work on a big deal. The situation is complicated after the return of her boss.

Jerry Maguire
Jerry Maguire is a successful sports agent. The biggest clients, the respect, a beautiful fiancée, he has it all. Until one night he questions his purpose. His place in the world, and finally comes to terms with what's wrong with his career and life. Recording all his thoughts in a mission statement Jerry feels he has a new lease on life. Unfortunately his opinions aren't met with enthusiasm from his superiors and after dishonorably being stripped of his high earning clients and elite status within the agency Jerry steps out into the sports business armed with only one volatile client and the only person with belief in his abilities with the impossible task of rebuilding what he once had. Along the way he faces the harsh truths which he'd ignored in the past and a host of hardships that he'd never faced before.

The Aviator
The script begins as a young Hughes directs one of Scorsese's favorite films, Hell's Angels. Hughes was so obsessed with perfection in the aerial sequences that he waits forever for perfect conditions, right down to cloud formations. The Aviator ends in 1946, when Hughes was still a dashing young man and romancing actresses like Ava Gardner and Katharine Hepburn.

Office Space
In the Initech office, the insecure Peter Gibbons hates his job and the abusive Division VP Bill Lumbergh that has just hired two consultants to downsize the company. His best friends are the software engineers Michael Bolton and Samir Nagheenanajar that also hate Initech, and his next door neighbor Lawrence. His girlfriend Anne is cheating on him but she convinces Peter to visit the hypnotherapist Dr. Swanson. Peter tells how miserable his life is and Dr. Swanson hypnotizes him and he goes into a state of ecstasy. However, Dr. Swanson dies immediately after giving the hypnotic suggestion to Peter. He dates the waitress Joanna and changes his attitude in the company, being promoted by the consultants. When he discovers that Michael and Samir will be fired, they decide to plant a virus in the account system to embezzle fraction of cents in each financial operation into Peter's account. However Michael commits a mistake in the software and instead of decimals, they steal a large amount….

Moneyball
Oakland A's GM Billy Beane is handicapped with the lowest salary constraint in baseball. If he ever wants to win the World Series, Billy must find a competitive advantage. Billy is about to turn baseball on its ear when he uses statistical data to analyze and place value on the players he picks for the team.

Boiler Room
Seth Davis is a college dropout running an illegal casino from his rented apartment. Driven by his domineering fathers disapproval at his illegitimate existence and his desire for serious wealth, Seth suddenly finds himself seduced by the opportunity to interview as a trainee stock broker from recent acquaintance Greg. Walking into the offices of JT Marlin, a small time brokerage firm on the outskirts of New York – Seth gets an aggressive cameo performance from Jay that sets the tone for a firm clearly placing money above all else. Seth's fractured relationship with his father and flirtatious glances from love interest Abbie are enough to keep Seth motivated in his new found career. As he begins to excel and develop a love for the hard sale and high commission, a few chance encounters leads Seth to question the legitimacy of the firms operations – placing him once again at odds with his father and what remains of his morality.

The Wolf of Wall Street
A Long Island penny stockbroker who served 36 months in prison for defrauding investors in a massive 1990s securities scam that involved widespread corruption on Wall Street and in the corporate banking world, including shoe designer Steve Madden.

Morning Glory
Becky is a hard-working morning TV show producer, or at least she was until she got fired. Desperate to get a job, she finally gets an interview with Jerry – who is desperate to hire a producer for the struggling show "Daybreak". Becky accepts the job and it proves to be more difficult than even she might be able to handle. She has to fire the sexist co-host, then try to convince egotistical news reporter, Mike Pomeroy, to take the job, and then try and get him to actually do the job, properly. And she has to do this while falling for handsome Adam, and trying to save the show from plummeting ratings. Will Becky be able to hold on to her dream job and her sanity?

Catch Me If You Can
An FBI agent hunts down a young con artist who successfully impersonated an airline pilot, doctor, and assistant attorney general, cashing more than $2.5 million in fraudulent checks in 26 countries.

Mr. Mom
Jack and Caroline are a couple making a decent living when Jack suddenly loses his job. They agree that he should stay at home and look after the house while Caroline works. It's just that he's never done it before, and really doesn't have a clue.
What movies do you think should be on the list?
Movie descriptions courtesy IMDb