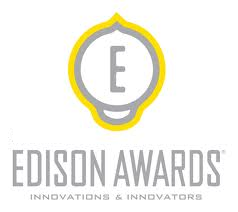 The results are in! This past weekend the 2013 Edison Awards winners were announced, and Small Businesses Do It Better is bringing them to you! The Edison Awards are known around the world for recognizing and honoring innovation and excellence in the design, development, marketing and launch of new products and services.
Gold winner in the Personal Care category, Everyday GLO, is an antioxidant and vitamin enriched formula will freshen breath, promote healthy gums and instantly add a high gloss shine to your smile. GLO Science founder, Dr. Jonathan B. Levine will join Carissa on tonight's show.  GLO Science was also the 2012 Silver winner in the Personal Care category for the GLO Brilliant® Personal Teeth Whitening Device.
Tonight's show will also feature the Bronze winner in the Cleaning Solutions category, Soap Time. SoapTime is a patented system that teaches children to properly wash hands. An engaging light and sound "experience" entertains for 20-seconds…which is the CDC's recommended wash time.
Stop by live.smallbusinessesdoitbetter.com tonight at 7pm PST/10pm EST to ask Dr. Levine your questions and to hear more about GLO Science and Soap Time.