Surely you have had to make some changes to your small business throughout COVID. I reached out to see what changes some businesses have made and I was impressed with the entrepreneurial ingenuity!
"The pandemic got us to get creative and make the World's First spice vending machine to sit outside our spice shop for in person yet contactless shopping, and we're definitely keeping it.
We were finding that people would come by our spice factory in hopes of shopping in person, or they'd stop to pick up an order in their locker and they'd want to shop a little more.
The vending machine gave them a contactless way to shop, and it also attracted new customers who happened to be walking by our factory.
We are considering making more machines to put in more locations."
"One change that we made during the Coronavirus pandemic is hiring remote employees. Prior to the pandemic we had a traditional in-person office and we hired people based on their qualifications but also based on their proximity to our office.
Once we were forced to go remote and not be in our physical office, I was counting down the days until we could get back. But after a few months I realized the real potential in having a remote team. I am blessed that my business grew during Coronavirus, so I had to hire many new team members.
Being able to put their physical location out of the way when hiring and expanding the talent pool to literally all states was amazing. I found such amazing candidates and have one of the strongest teams I've had in years!"
-Nellie Akalp, www.CorpNet.com
My business, drawing caricatures, has always been face-to-face interactions, often at large trade shows. With the postponement of live trade shows, I pivoted my website to offer a temporary "quickie" sale on cartoon avatars done by photo and also learned at least 10 different platforms over the course of taking on remote gig work.

I was able to offer a spark of fun to Zoom gatherings and other online party platforms and deliver the artwork via Dropbox or Google Drive–and suddenly I found myself in demand, drawing people at their computers in Switzerland, Mumbai, and Bogotá. While time zones made for some odd hours, I was happy to draw at 4 a.m. in order to bring some fun to a cocktail party on the other side of the world.

Colleagues shared tips on software and apps, and I customized a camera setting so guests could see the artwork take shape, just like in the real world, and we partnered with experiential engineers who created immersive party and convention platforms for global companies to hold virtual events. These were all markets I'd never have thought to tap if COVID had not forced fundamental changes to the way I do business.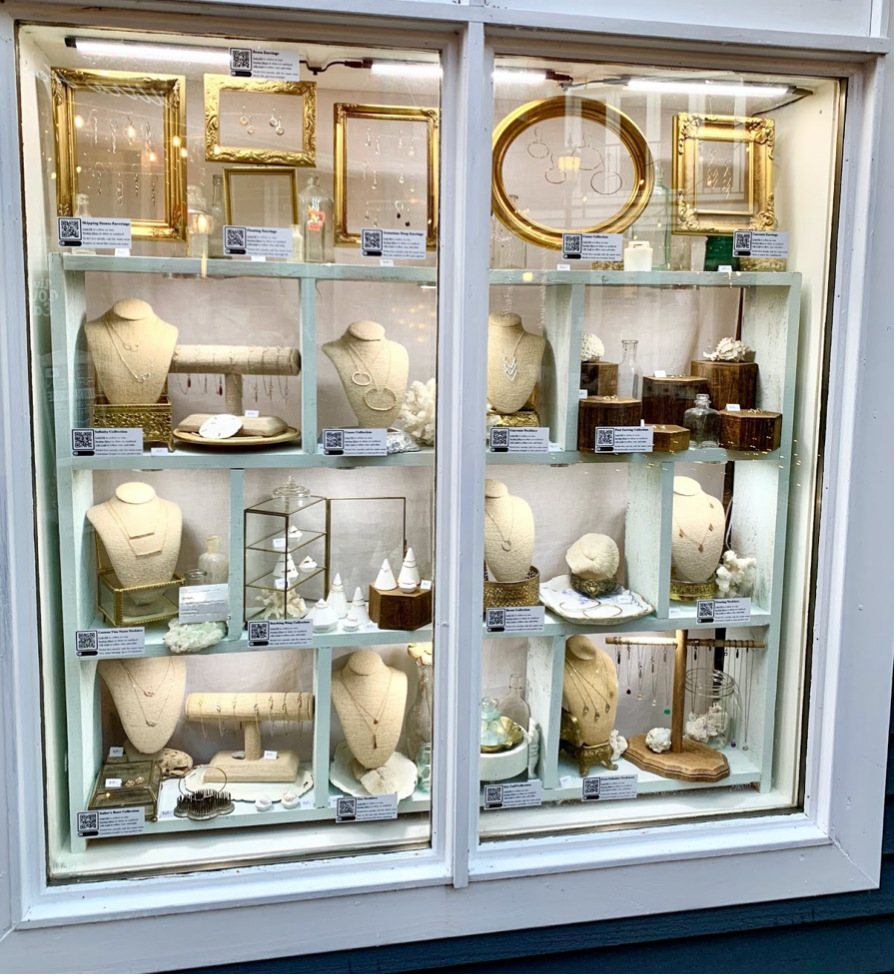 I own a jewelry business with a brick + mortar store and e-comm. My storefront is tiny so in response to COVID restrictions, I set-up my window display with scannable QR codes to create an outdoor scan to shop "literal window shopping" experience.
The eye-catching store windows drive curious foot traffic to my website. Shoppers use their smartphone camera to scan the QR code next to an item in the window and be led to order that exact item on my website. Scan to Shop facilitates fast and easy impulse shopping through the windows 24/7; a convenient option for shoppers with small children/pets in tow or for after hour browsers.
It's like discovering the holy grail of retail; and I never would've had the idea without the pandemic.
The initial COVID shut-downs closed our core business. During this time without events going on we focused on our sitters personal lives and well-being. We sent two surveys out, one to assess their mental health, stress levels, and mindset. Then we sent another to see about their financial stability & challenges.  From sending the surveys we learned more about our sitters and how we can support them outside pay for working events.

We will continue to survey and monitor their growth and have plans on starting a goal program where they can create SMART goals and we can provide resources and support through our network to help them achieve it.
When COVID hit us & everything started to go online and the physical world got disrupted we were forced to implement some business strategies. The most important strategy was offering free subscriptions for a limited time.  The strategy worked well, and the same was reflected in our website traffic too.
Many organizations also used our free trial service and soon they opted to become  permanent subscribers. We also launched some short and long term packages which further helped our customers to choose accordingly. We are planning to continue this strategy further & improvising it with new ideas like offering discount coupons for the next subscription cycle.
-Daniela Sawyer, FindPeopleFast 
One change we implemented during COVID was to run all of our jewelry shows online instead of in person. In the past we did all our shows in person once a month and they did very well. With COVID, we had to stop those immediately.
Our company started doing live streams through Youtube and Facebook to our local and online customers. These live streams were both educational and commercial in nature and allowed visitors to view our items, buy online and ask questions. We advertised these live streams through emails, our website, and social media. We are now getting about 1000+ viewers watching our show each time.
Not only has it helped to stay connected with our customers, it has generated a ton of sales for our business. It was so successful for us over COVID, that we do it once a month even now through 2021.
-Jeff Moriarty, Moriarty's Gem Art
What changes did your small business make during COVID?
comment below!