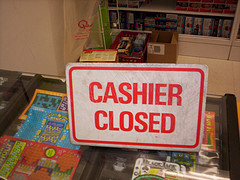 As a small business owner, you're always looking out for ways to increase your profits, right? Who isn't? And if you don't capture your market, your competitor WILL. So what if I told you that you could increase your market base and add to your annual profits just by making one simple decision? I know what you're thinking … another article with a silly idea about how to make money.  Hang on… I'm here to prove my point.
It's called Credit Card Processing. Don't let these three big words scare you away from missing out on what could be a huge opportunity to make it big with your small business. By accepting plastic money, you will be making a big difference to your profit margin. It is really that simple.
Advantages
A lot of businesses do not offer this service and according to statistics from a survey, a whopping 58 percent of customers at small businesses ask them to accept credit cards. That's more than half of all the customers that visit your store or business—and imagine what will happen if they get that convenience. Once your customer gets comfortable with the payment form at your business, they'll keep coming back. Comfort and convenience beats everything else these days, don't you think?
Join the bandwagon          
According to the same survey, 29 percent of all transactions in 2011 happened with credit cards. $127 billion was added to the economy between 2008 and 2012 through card usage and this is increasing every day. That, simply put, is a dramatic rise in sales for every small business owner in the US who has some credit card processing system in place. Cashless transactions are not just faster, but are also more secure as it is easier to keep tabs on your account with the help of online services. You'll have a monthly record of all your transactions which will show you if you need a change in business strategy to increase your profits.
You can even use the same merchants for accepting payments on your website. As it is, online shopping has become huge since all of us have become so dependent on the Internet. You don't need to worry about financial security, either, as reliable merchants follow federal guidelines for secure credit card processing and handling.
Take the plunge
Consider the benefits to your business:
A Sloan study shows that consumers wind up buying more when there is an option to pay by credit card, sometimes even 100 percent more.
You can balance your accounts more easily and accurately with an electronic system.
You get paid on time. Electronic payments don't bounce, checks do!
According to Intuit, any small business that doesn't accept credit cards is losing out on $7,000 in sales every year.
A lot of small business owners harp on the same tune of how credit card processing is expensive and involves a certain amount of risk. But as you can see above the extra cost could all be worth the extra profits. There are several reliable services like creditcardprocessing.com exist and they take your safety and security very seriously, so the risk factor is negligible.
You'll be the winner
Customer satisfaction is the new watchword, and if your customers are happy, you'll be happy too, and so will your balance sheet. Convenience goes a long way when you're trying to woo customers because they are likely to buy more and spend more if the payment method is hassle-free. Cashless is the new trend in the market. Think about it.
Gamer, loves baking (can introduce GF baking recipes), lives and breathes technology. Loves cars. Entrepreneur who's young (28 years), single and ambitious with an insatiable appetite for the good life.
Image courtesy Anthony Easton