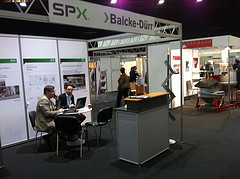 If you're familiar with the large-scale industry events known as trade shows, then you know just how much energy they require.
Seasoned vendors will know how stand out at these lively events, but if you're a first-timer preparing for a tradeshow can be overwhelming. It's easy to become camouflaged by other booths and the swarm of enthusiastic attendees.
The key is to plan in advance. And if you want to stand out—knock your first tradeshow out of the park by following these tips:
1.) Research who will be attending
For many trade shows, it's possible to obtain a list of attendees in advance. Find out which contacts are relevant to your business and send them a brief introductory email. Let them know you'd love to meet them and encourage them to stop by your booth. Keep your initial outreach short and personal.
2.) Bring the right team
The team you take to a trade show can have a huge impact on how the event goes for your company. You have two options: bring an in-house team or work with a temporary staffing agency. Either way, it's important to understand the people working your booth will be the face of your business.
In addition, keep specialization in mind when choosing your staff. A PR associate will be able to field press questions, while a sales person can best convert leads, and a tech specialists can answer specific technical inquiries.
3.) Prepare your staff
Inevitably everyone at your booth is going to be asked questions. This means every trade show team member should be an expert on your product and company. In order to make sure your team is ready, create a list of anticipated questions and role-play before the show.
4.) Offer samples or product demo
It's important to put your product on display in front of potential customers. People want to see, touch, and sometimes even taste something before they buy it.
5.) Be physically ready
Trade shows can be draining. If you're extroverted then you might not have any trouble with the hyper-social nature of the event, but if you're more introverted, you could find yourself depleted halfway through the day. Make sure to get a good night's rest before the event. Stay hydrated and steer away from alcohol if it's being served (or, if that sounds like no fun at all, perhaps steer away from too much alcohol). You're going to be standing and sitting for the bulk of the day, so try to get out for a walk to clear your mind and get your blood pumping.
6.) Give away free stuff
People love free stuff and they expect to score quite a bit at tradeshows. You can entice a crowd with something as simple as fresh cookies, or you can go a step further with promotional goods such as pens, hats, notebooks or water bottles. If you can, offer something that complements your brand.
7.) Be a presenter or speak at a panel/round table discussion
This strategy takes a bit more preparation and effort, but if you can contact the trade show's management team in advance and pitch yourself a spot on a discussion panel, you'll be on your way to positioning yourself as a thought leader in your industry. And if you have the opportunity at the end, encourage those listening to come talk to you one-on-one. To get the most out of your tradeshow experience, don't forget to attend other lectures and panels.
8.) Assemble an eye-catching display
The average human attention span is only eight seconds long and that doesn't even account for the distracting crowd and competing booths. Creating a catchy trade show display will help ensure potential customers don't pass you up. Try to ditch words for pictures, as the human brain processes images 60,000 times faster than text.
9.) Bring business cards/brochures
Nearly everyone you meet will want to trade business cards. You won't want to run out. Your business card is an invite for extended conversation beyond the trade show.
10.) Engage on social media
Underneath the buzz of the tradeshow floor runs the ever-constant social media stream. Don't abandon it. Twitter, of course, is a quick way to connect with fellow attendees. Most trade shows will have an official Twitter hashtag you can use to chronicle your day. Keep your regular social media routine on track by scheduling your posts in advance, and use LinkedIn to network with other attendees you meet.
11.) Don't forget to follow-up
One of the most important trade show strategies that often get abandoned is the follow-up. Remember your main goal: turn introductions into long-term business relationships. With this in mind, reach out to those you met. Do this within a few days of the tradeshow, so not to lose momentum.
Final Thoughts
Standing out at a tradeshow is no easy feat. It takes planning and work. But it's also a brilliant marketing opportunity that can provide enormous benefits for opening new business channels.
After it's all said and done, learn from your mistakes, take note of what worked for other exhibitors, make adjustments, and move on to the next show!
About the Author: Charles Dugan is the Owner and President of American Image Displays, an independent distributor for trade show display equipment based in Seattle. Follow him Twitter and connect on LinkedIn.