According to a study by Bank of America, there's no greater stress in a small business owner's life than running their business. Not even raising kids, or maintaining a healthy relationship with their partner gives them the same amount of grief.
Ironically, Bank of America have helped heaped some of that stress upon small businesses, their shenanigans in Wall Street making the trading environment tougher than it's been in decades. Whilst they might have taken the stress levels up a notch though, others have done their bit to decrease them.
Tech companies, for instance, have done a significant amount to ease up small business stress, cutting costs, and increasing efficiency whilst they do it.
Keen to limit small business strife? Then here's some apps, sites and software that'll help…
Skype
Phone calls can prove a significant overhead for a business, draining money and exacerbating stress. You're therefore going to want the most cost-effective deal possible.
Skype offers this, as with it you can make voice and video calls to fellow users for free. Carrying an estimated 663 million users worldwide, you'll likely find clients and customers using the software, so it's something that's well worth embracing.
Google Drive
Microsoft used to have a stranglehold on the doc creation market, meaning that you had little viable alternative to Microsoft Office.
This meant hefty subscription fees for your business, another overhead you could do without. With Google Drive now on the market though, you're offered an equivalent that's not only free but arguably better. Its foundation is cloud technology, so should you need to get access to your documents remotely, you can. You'll just need an internet connection.
Google Analytics
With so much marketing internet based nowadays, you're going to want to ensure you're using the right SEO strategies. This is where the Google's Analytics app comes in.
Amongst the leading analytics apps on the market, with it you can track, analyse and optimise your website, measuring its effectiveness whilst examining exactly where traffic is coming from.  Ultimately, it should help you market more effectively and help you build up more leads. What's more, it's free!
Pageonce
To give you a better piece of mind, you're going to want to get a clear picture of your finances at any moment in time.
Enter Pageonce. A free financial management app, it can provide an overview of all of your bills and bank account balances. Any due dates and transactions can also be viewed, whilst you can even pay your bills using the platform.
Elsewhere, real-time alerts and reminders can be set about upcoming bills, so you need never make a financial faux pas again.
Basecamp
Finances aren't the only thing likely to cause small businesses strife, time-management can be a struggle too, the juggling of projects, products or orders posing perpetual problems.
Embracing some project management software can help here, as it can help you organise things logistically. Amongst the best I've used is Basecamp, an extremely simple and easy to use app that's been the foundation of my work and academic organisation for years.
And finally, the Small Business Administration
If things really are getting get too much, check out the Small Business Administration website and see what they can do to help. There's a lot of resources on there and a lot they can do to ease some of the strife, so see what expertise and assistance they can provide.
Strife is unfortunate repercussion of being your own boss, but don't forget it comes in the traditional workplace too. Embracing a bit of tech you'll make your life a little easier, limiting some of the stress that comes with small business ownership.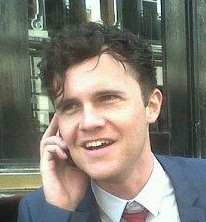 Mark James is an in-house Writer for small business accountants Crunch. He specializes in Business and Technology and lives in Brighton, a small seaside city 60km south of London.
Image courtesy ajleon