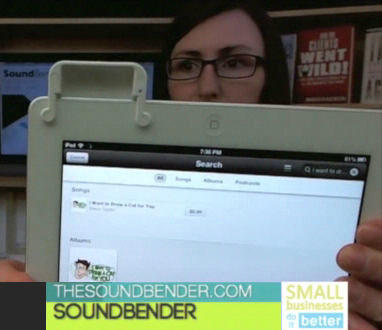 Rebecca Rescate, entrepreneur who brought two separate businesses into the Shark Tank, survived, and got invested in both times by different investors, joins Carissa and special co-host, Rob Merlino of the Shark Tank Blog.
Rebecca shares her Shark Tank experience and the differences between her two investors, Robert Herjavec and Kevin Harrington, and how each one has helped her businesses, HoodiePillow and CitiKitty. We also learn about the different online distribution channels and how to utilize them in a way that is smart for your business.
This episode also features SoundBender, a magnetic, power-free iPadⓇ amplifier.
Links mentioned in this episode include:
Subscribe to SBDIB show on iTunes
Get your own Live Stream with Ovaleye.tv
Check your business credit with a FREE report from Dun & Bradstreet Credibility Corp.
Apply to have YOUR product or service featured on the show!
CitiKitty.com
HoodiePillow.com
RebeccaRescate.com
SharkTankBlog.com
TheSoundBender.com
Next week's show info