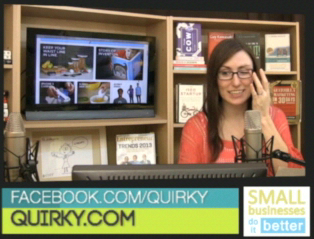 Baron Nagy, Content Manager at Quirky.com, discusses the entire process about how inventors can get their product from an idea to development to packaging to selling it online and making money. Quirky makes the whole process affordable, painless and also provides everyone access to their community.  We also discuss the pros and cons to obtaining a patent for a product and what the biggest hurdle inventors most likely face.
Baron shares some details about some of Quirky's most successful products, and some that are not so successful, which is why I am crying in the photo… these are hilarious.
Baron gives us a sneak peek into what he calls "Quirky's biggest announcement to date", which will be streamed live on Quirky.com on Wednesday, April 10th at 11:30am EST.
BONUS: Coupon code for SBDIB show viewers to submit your idea for FREE! Use code BETTER
One free submission per Quirky account.
Links mentioned in this episode include:
Subscribe to SBDIB show on iTunes
Get your own Live Stream with Ovaleye.tv
Check your business credit with a FREE report from Dun & Bradstreet Credibility Corp.
Apply to have YOUR product or service featured on the show!
Slawsa and Nascar
Quirky.com
Quirky on Twitter
Quirky on Facebook
Quirky on Pinterest
Next week's show info