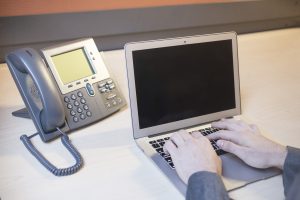 In this day and age, working environments are becoming more flexible to suit a business's requirements. Many organizations don't have the financial capacity to operate from large premises, and often this may be surplus to their requirements anyway. Serviced and virtual offices have become increasingly popular ways to conduct business in the light of the changing trends. For an insight into these, read on.
What is a serviced office?
A serviced office provides an individual or organization with a dedicated office space that they lease for a period of time. The space is fully-furnished and comes with phone line rental, internet, use of facilities and various other features according to the requirements of the individual. Full administrative support is usually available, if required.
What is a virtual office?
A virtual office is a situation where a firm provides services such as answering phone or email messages, gives a mailing address and forwards mail on, as well as organizes or provides meeting rooms, if required. There is no leasing out of physical space.
The benefits to be gained
Both forms of office environments provide advantages to those seeking flexible ways of working. Whether you choose to go for a serviced or virtual office, largely depends on your individual requirements and the type of work that you undertake.
What is common to both forms of office is that they can help reduce overheads. Because you are only leasing either services or an office space, you don't need to invest in property to run your business from. They are both ideal scenarios for young businesses or those who lack financial means or manpower to get a business off the ground.
For those businesses that are reliant on having some sort of physical space to conduct their work, especially if their work depends on regular client meetings, then the serviced office is a better option than a virtual office.
However, if your business doesn't depend on having a physical space, or client meetings don't take place that often, then the virtual office will probably meet your needs better than a serviced office.
Because you are leasing services and/or space for a period of time, both types of offices give you the flexibility to adapt your requirements over time, depending on changes within the business. Virtual offices, in particular, are suited for more short-term modes of working.
They both give you a business address (often a prestigious one) that can help raise your profile and give you some of the acumen associated with being a large organization. You can also conduct business from various locations, without being tied down to one address.
Any pitfalls?
The main downside of serviced and virtual offices is that they won't work for every business. Because you still have to pay for the services involved, whether it's renting space, administrative support, having messages forwarded on to you, etc, it is still an associated cost to your business that can easily mount up over time. Serviced offices are considered more expensive than virtual offices, and if you just lease the space only in a serviced office then you will still have to manage all of your communications yourself.
Philippa often writes about office spaces and prefers serviced offices to the virtual offices. Philippa often sources office article ideas from Foxhall; providers of office spaces in Nottingham.