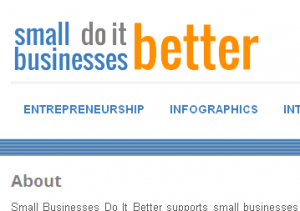 While no two business websites are ever exactly the same, there are a few components that come standard—like the Home page, in most cases a Contact page, and, of course, an About Us page. This last page is an especially important element for your company website: It tells the story of your brand in a (hopefully) unique and compelling narrative, and for most companies it ends up being a big traffic-getter. With that said, some About Us pages are far more effective than others. Ideally, your About Us page is branding your small business in a positive and constructive way; it's humanizing your company; it's instilling trust in potential customers; it's ultimately causing more people to keep exploring your website and to ultimately do business with you, either immediately or down the road. If your company's About Us page isn't accomplishing these goals, you may need to make some tweaks.
Tell a (Short) Story
First, remember that the About Us page is meant to tell the story of your brand—but that it needs to be a good, compelling, and fairly succinct tale. Some business owners are so enthusiastic about their companies that they go on and on in their About Us pages; enthusiasm is great, but it's important to be mindful of the reality of online attention spans. Hone in on the central values and identity of your company and craft a straightforward narrative that emphasizes those points.
Build Trust
You want to capture the reader's attention with your company About Us page, but you also want to win their trust. Your company About Us page should include some reference to your credentials and your experience. Are you trained, licensed, or certified to do what you do? Have you been working in your industry for a long time? Is your staff specially trained and well qualified? Note these things with as much specificity as you can. Give potential customers a reason to feel confident in your business offerings.
Be Relatable
People like to do business with other people, not with faceless corporations, and your About Us page is a great place to humanize your brand. Include a photo of your team. Reference the names of some of your key players. Allow your ultimate values and passions to shine through. Be professional, but also personable in your writing!
Open the Doors to Further Communication
Hopefully your About Us page addresses some of the most major concerns about your company, but some users are going to have some more questions or the desire to learn more. Make it easy for them to do so. Include invitations to connect with your brand on social media accounts—Twitter, Facebook, or whatever else your small business uses.
Be Candid
A final note: You might be surprised by how far honesty will take you. Not all small businesses have much experience or many accolades to speak of; however, rather than try to obscure that fact, embrace it. Be open about your newness and your enthusiasm to make a name for yourself; position it as a strength instead of shying away from it. Your company About Us page is almost like an online business card; it's the first impression you're going to make with many potential customers and clients. Make sure you're putting your best foot forward here, and really telling your company's story in a way that is winsome!
Josh Hurst is the Content Marketing Strategist for Grammar Chic, Inc.; he and the Grammar Chic team have written website content, as well as launched social media marketing campaigns, for countless small businesses.