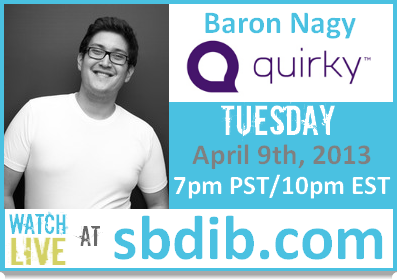 Wow. I am super excited to talk to Baron tonight! If you are wanting to know anything about getting a product to market – design, manufacturing, packaging, and selling – you won't want to miss this!
Quirky.com provides an accessible way to bring products to market. Since launching in 2009, Quirky has rapidly changed the way the world thinks about product development, and has brought 319 products to market, working with 188 retailer partners. Quirky brings at least three brand new consumer products to market each week, by enabling a fluid conversation between a global community and Quirky's expert product design staff.
Join Baron and Carissa live tonight at 7pm PST/10pm EST right here at sbdib.com. We've also got live chat so you can ask your questions!