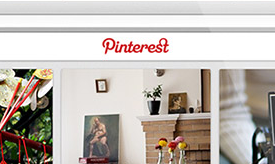 If you're fed up with Twitter and Facebook dominating the social media scene Pinterest could be the refreshing change you've been looking for. No more tweets, statuses or posts; Pinterest purely harnesses the power of the visual and pins it!
Research shows that we are more likely to be engaged by an article online if there is an interesting, eye catching visual associated with it. We are drawn to images as they can represent a message quickly and simply without our brains having to read reels of text. Sounds lazy but its true! With this in mind it's not surprising that Pinterest has become so popular.
Is your business a pin-up?
Many brands and businesses have recognized the potential Pinterest has and know use it as a valuable tool to establish and develop brand authority. Here's some tips on how you can do the same for your brand or business;
By combining useful, educational content in a novel way users will be more likely to re-pin and follow your pin boards.
Use group boards to connect with the community
Collaborate with popular pinners with a large following, exposing your content to a wider demographic.
Successful pins are visually attractive but also showcase great content. Make your pins a solution to a problem, inspirational or an offer of something desirable.
Use the Pinterest Pin count tool to analyse your pins. Find out which pins where successful in driving traffic through your site and which pins had a high percentage of re-pins. Once you've established the most effective pins, replicate them to continue to increase traffic.
Back to Facebook and Twitter; use these as platforms to share and promote pins and pin boards.
The visual nature of Pinterest lends itself to promoting businesses and brands with visual results or connotations. For example, if you are a food company, you could use Pinterest to entice customers by pinning recipes that contain your products. If we can see delicious results we will be more likely to want to make the recipe for ourselves and buy the associated products.
Similarly, the beauty and fashion industries all benefit and feature heavily on Pinterest. Even if your business isn't visually dependent, you can still use Pinterest to your advantage. For example, if your business sells car insurance, you could pin dream cars, creating an aspirational edge. By doing this you are promoting your services indirectly. You can also use Pinterest to reveal life in the office. By pinning images related to the office culture and interests, customers can feel a personal connection, adding fresh perspective to your brand and company.
With the use of all social media platforms it is key that your content is of benefit to potential and existing customers. If customers value your content you will appear to be an expert in your field, making them more likely to place business in your hands.
In partaking in the Pinterest process you will be directing traffic and money into the business, allowing you to pin that coveted goal of success firmly onto your company.
Blog supplied by James Cartwright of Wisteria Formations. Wisteria Chartered Accountants are an independent firm of specialist tax accountants and Chartered Tax Advisers, based in London.  The company provides a wide range of services to businesses, including tax compliance and tax planning services.  Wisteria is a member of the Institute of Chartered Accountants and the Chartered Institute of Taxation.