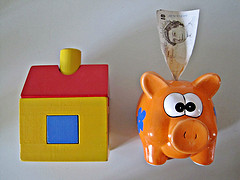 We all have a need to put down our roots. We are humans after all and a shelter makes it to the top of the "needs" list.
In a perfect situation – perfect as in market health, financial status, and the ability to own property – it'd be a no-brainer to own a home or any other piece of property for business. But the markets aren't perfect and the housing meltdown with a somewhat weak recovery (no matter what they claim on the media) isn't making it very attractive to own property. As an entrepreneur, you already have a lot on your plate. Should you then look to own a property? What should you look out for? Does it make sense at all?
Entrepreneurs are unlike everyone else
If you had a job – assuming that you'll continue to be employed for a while – buying a home might just make sense. Since there's a regular cash flow, paying mortgages and managing your debt is a tad easier.
Not so for an entrepreneur. Startup owners especially have to focus on growing, scaling, hiring, investing in technology, and paying for marketing their startup. There's barely anything left for a startup owner to experiment with. Asking for a mortgage payment from an entrepreneur who probably pays himself last is too much.
Blind investor syndrome
We just came up with that. We mean that just like a lot of people simply make decisions and later live with the decision-making guilt, buying property could just be one of those things you could have just gotten yourself into. Maybe your priorities aren't aligned for buying property yet. Maybe you can't afford it now, realistically speaking. You might need time. Perhaps, you might want to look out for real estate deals elsewhere. Whatever you do, don't invest blind because your partner and the neighbor did so. They aren't you.
Startup entrepreneurs are cash-starved and they lack time and energy that buying a property entails. James Altucher – an entrepreneur and author – wrote for TechCrunch where he busts the popular belief that "everyone should buy a home". He insists that startup entrepreneurs should not buy homes. He believes that you could mark the big lump of cash going out as down payment as "R.I.P".
He advocates that if you just took 1/4th of the down payment to invest in your business, you could end up making a lot more money – that's something your property might or might not give you.
Buying property is work
Buying a piece of property is no cakewalk. If you are in the market looking for a new piece of property, you'd have to look for the best place for real estate deals, spend time looking for the property, finalize the deeds, engage yourself into a litany of legalese, dig your head into paperwork, and all of this is just the beginning.
You'd have to figure out property tax rates, which will go up more than inflation does. Once you own the property, there's care and maintenance. You now sit on a huge chunk of investment, which might or might not appreciate in value. Property is also illiquid, calls for regular mortgage payments, and allows you no more diversification.
We are not trying to be negative here. We are just telling what's involved. Buying property is hard work. The question is this: would you rather work on your startup with potential or rather spend time on buying property? You choose.
Markets dictate. We follow
Not all real estate markets would call for any sort of a discussion like this. Owning property elsewhere in the world wouldn't have warranted such a post really. Buying property in developing markets usually make for a great investment since the prices of the property almost always go up in value. Given that a few countries such as Malaysia, Panama, Uruguay, and many others allow foreign investors to purchase property, you could very well look abroad and make good returns on your investment.
Buying property – wherever you want to, that is – depends on the real estate market trends pertaining to specific geographic precincts.
Cash flow determines everything
You can certainly buy property but you'd do that when you are well shielded from anything that startup entrepreneurship can throw at you. Alternatively, you could buy property – cash down and without any mortgages – if your startup is swallowed by a huge, valuated purchase. In most other cases, buying property is stretching yourself to too thin.
Yet, you can do so if you have a cash flow that permits you to. It's the ultimate profitability and cash flow that'll determine the purchase. While it's rare that you'd have any room left even if your startup is hot, is growing quickly, and is profitable from the word go.
Startup entrepreneurship is a tight phase. Real estate is an unwelcome guest
We do understand that buying a home is an important – and often a necessary investment. But when startup entrepreneurs are focusing on bootstrapping or scaling up startups, real estate decisions are unwelcome.
Payments are a burden. For all of that trouble, there isn't much to look forward to when it comes to returns on your investment while a huge chunk of cash sits as down payment while a regular chunk of cash goes out for mortgage payments.
If you are about to launch– or just launched – a startup, you need breathing room. You'll need to give your home-buying impulse the shelf so that you focus on your startup which requires much less of a financial commitment while promising you leverage and a lot more in returns.
The only allowance to invest in real estate is when the markets show an uptick in trends, there's a good chance that you'd be able to recover your investments and manage your finances, and when you have time.
Startup owners don't have the time and energy for any of that.
Startup owners should focus on entrepreneurship. We believe that everything else – including a home (or more) will fall in if the entrepreneurship part is taken care of.
What do you think? Should startup entrepreneurs invest in property while also running startups?
Frank Pipolo is a 20-year professional executive and writer for WCI Communities, a Florida lifestyle community developer and luxury homebuilder, catering to move-up, second-home and active adult homebuyers. Image courtesy Images_of_Money