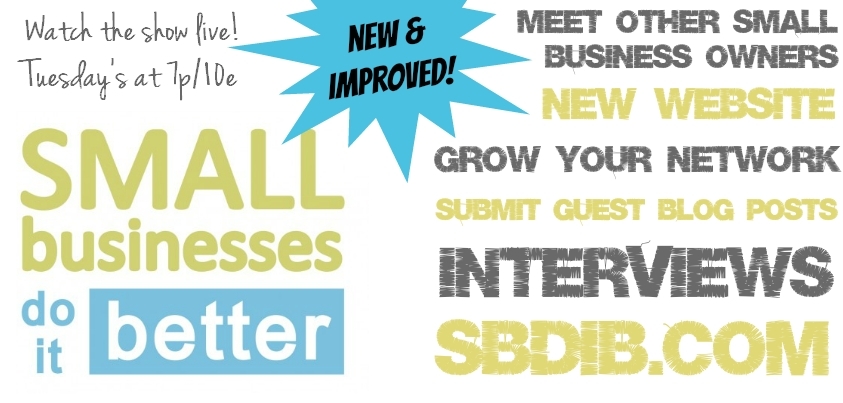 I'm very excited to announce that the Small Businesses Do It Better brand has been improved! So, you may ask, what is new and improved?
What's New?
Everything is all on one website – this one you are on now. Interviews from the show, blog posts, and of course, watching the show live here too! YAY!
Product Features – Cool Huh!!! I'm very excited about this one! By featuring products I can spread the word about more businesses, in a shorter period of time. This also benefits those business owners who prefer not to be on camera, they can just send in their product and I feature it! Win, Win! More info on submitting a product here
Guest Blog Posts – part of the online community and getting your name seen includes blogging. What a better way to let others speak, than by offering guest blog post submissions. Submit a guest blog post
Comment Luv – though smaller, this one is cool too! Comment Luv has been added to blog post comments. What is this, you may ask… When you comment on a blog post you will now get a link back to your site, from your comment. Most sites do not offer a "follow" link back to your site when you leave a comment. Leave a comment on a blog post or show episode.
What's Improved?
Live Chat – during the shows we've got an improved live chat feature. By attending the live streams you can not only socialize with other small business owners who are watching, but you also have the opportunity to ask the host questions to pass on to the guest – which may get your name and/or business mentioned on the show! Bonus!
Awesome guests – the show has always had amazing guests, but I'm really stretching the boundaries to bring on guests who have some serious experience under their belt, or are industry experts who have loads of information for small business owners. Apply to be a guest
Blog – this site has always had a blog, and gotten decent traffic, but I'm stepping it up a notch and bringing the readers something they can learn on every post. Subscribe to the blog via RSS or by email in the top right corner of this page.
Thanks for visiting the site – I encourage you to take advantage of these new and improved opportunities to get your business name out there!